There are 11 horses that have been nominated for the Alberta Derby at Evergreen Park on Sunday, July 28 at The Horses At Evergreen Park
Eight of them will appear in the $50,000-plus 1 1/16 mile run for three-year-olds and up. (Click here for list.)
If none of the horses pull out before the Derby entry is created by the race secretary early next week, three of the horses will be dropped.
It's all based on career earnings with the top earners getting the nod.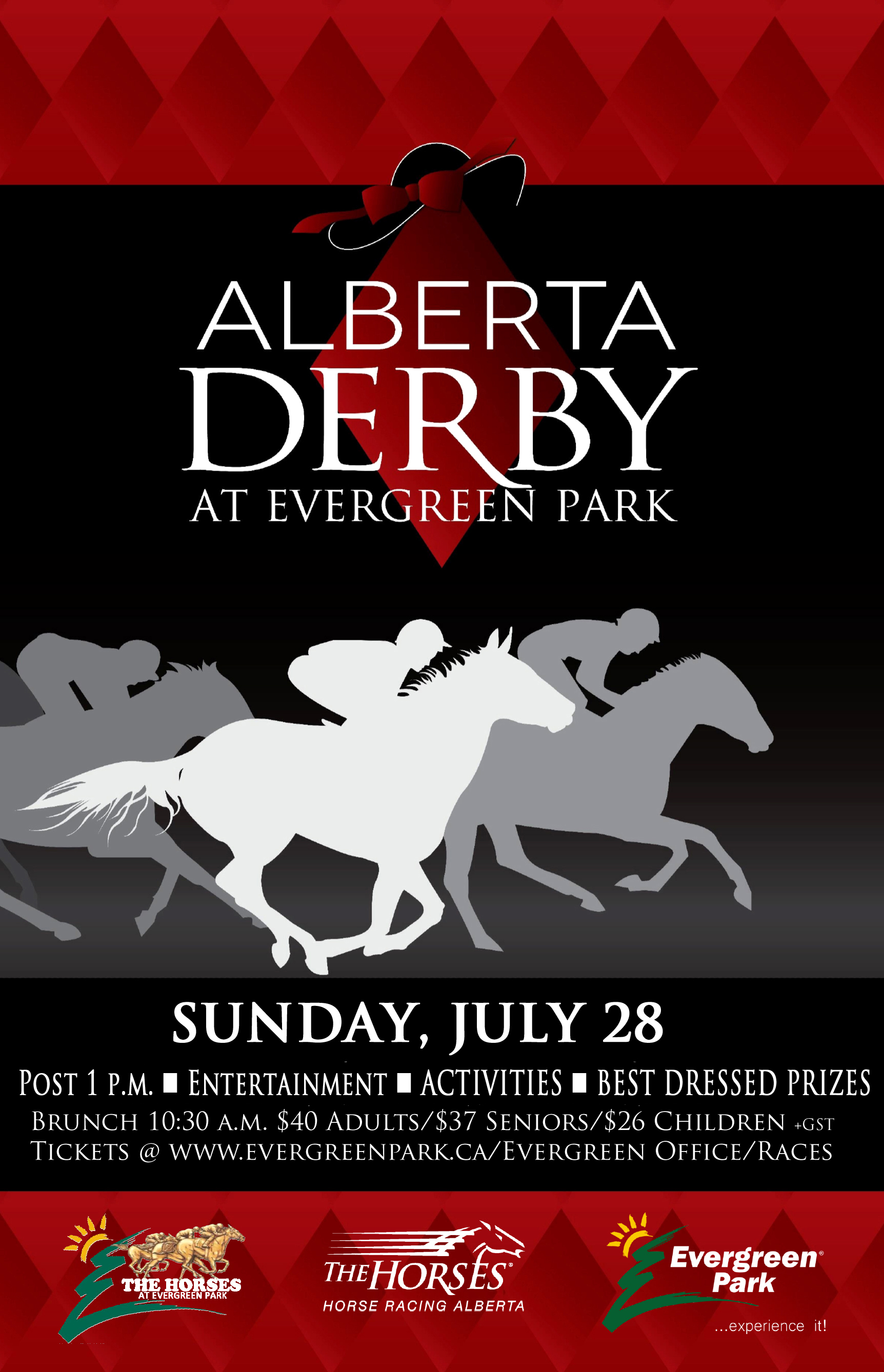 Top career earner, according to statistics provided by Equibase, is a horse called Sharp Dressed Beau.
The Oregon-bred thoroughbred, owned by Empire Equestrian and trained by Rick Hedge, has $66,475 in career earnings after nine starts with four firsts, two seconds and a third with its last four starts at Century Mile in Edmonton.
Sharp Dressed Beau, who ran at Northlands Park in Edmonton and at Turf Paradise in Arizona last year, is on a three-race winning streak including capturing the Count Lathum Handicap and the Western Canada Handicap in its last two races.
Second on the career winning list is Call It A Wrap – owned by Riverside Racing Stables Ltd. and trained by Tim Rycroft.
The BC-bred horse has won $57,773 after seven starts with two wins, two seconds and two thirds.
After starting its career at Hastings in Vancouver, Call It A Wrap moved to Edmonton where it finished second to Sharp Dressed Beau in both the Count Lathum Handicap and Western Canada Handicap.
With $36,557 in career winnings, Parking Permit – owned by Mohamad K. Khan and trained by James R. Brown – is third.
The California-bred was third in the Count Latham Handicap in Edmonton and has a win, four seconds and four thirds in 15 career starts, with most of those coming at Turf Paradise.
At $31,166, Exactly is fourth among the current list of nominees. The Kentucky-born is owned by Alexandre Dion and trained by Elige Bourne.
After four starts, all at Century Mile, Exactly has two wins and two seconds.
Winner of the J.D.A. Grande Prairie Derby last Sunday, unless withdrawn, will be competing in the Alberta Derby based on money winnings.
The Hybrid – owned by Kelsey and Jason Coney and trained by Jason Coney – has earned $25,743 in its career – fifth best among nominees.
The Kentucky-bred has 17 career starts with three wins, two seconds and a third while racing at The Horses At Evergreen Park, Hastings and Turf Paradise.
With two wins in just three starts, Zicatela (born in Alberta) has pretty good winning record, but not a lot of racing under its belt.
Rated sixth in career winnings among the nominees at $21,421, Zicatela – owned by Crystal Meadows and trained by Dale Saunders - was fourth at the Count Lathum handicap at Century Mile after winning twice there in June.
Kentucky-bred Proud And Loud, owned by Riverside and trained by Rycroft, is seventh among the nominees in career winnings with $21,178.
Proud And Loud has five career starts – two of them were at Century Mile with the last being a seventh at the Count Lathum Handicap – with two wins.
Striders Ring (a third entry by the Riverside-Rycroft combo) will be in if not withdrawn as it sits eighth with $18,093 in career earnings.
The Alberta-bred has raced five times with a first and a second competing at Century Mile and Century Downs in Balzac.
The three horses on the bubble hoping one or more horses pull out are – Hawkwood, Its All Good and Hill Top Wonder.
The Kentucky-born Hawkwood ($13,997 in career earnings) is owned by Highfield Investment Group and trained by Greg Tracy.
Hawkwood has five starts with a first and a second with its last three at Century Mile.
Its All Good is ranked 10th among the 11 nominees with $6,079 in the pockets of the owner.
Born in Kentucky, Its All Good – owned by Robbin Martens and trained by Lionel Joseph - has just three starts to its name with a win and a third. It its races have been at Century Mile.
Grande Prairie's Al Side owns and Ernie Keller trains Hill Top Wonder – another Alberta-bred.
Hill Top Wonder also has just three starts with two thirds and $3,220 in career winnings, which puts it 11th among the nominees in career winnings.
Evergreen Park is hosting the Alberta Derby for the fifth time.
The day includes a VIP Brunch. That gets underway at 10:30 a.m. and tickets are available here; at the Evergreen Park office in the TARA Centre; and at the information table on race days.