32ND SHOW ANOTHER SUCCESS
By SVJETLANA MLINAREVIC
 Daily Herald-Triune
There is nothing more enjoyable for adults than watching children play the role of an adult, as well, there is nothing more exciting for a child than taking on the role of a grown-up. This was the case at this year's Peace Country Classic Agri-Show children's auction and workshop, said Agri-Show president Sonja Raven.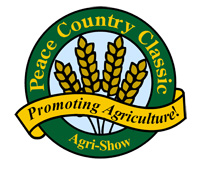 "I think they like it because they're getting a chance to try something that's grown-up, but for stuff they can relate to. They're bidding on stuff they would want and they get a feel of, 'I've seen Dad or I've seen Mom bid for stuff – look at me, I can do the same thing.'
"Everybody is always fascinated with that auctioneer patter and to learn what the tricks are to that, it's like, 'Oooh, I've got a really cool skill that most of my friends won't have.' I think it's the novelty and it's just exciting! You look at those kids and it's just awesome."
Despite the freezing temperatures this year, Raven said the show went exceptionally well with vendor slots selling out both indoors and outdoors.
"Despite the horribly cold weather, that made it a little challenging for our outdoor exhibitors, but they still said it was good and in speaking with a number of vendors inside, they were really pleased with it. They said there was really good traffic and they were really happy they came."
As for attendees, Raven said the overall impression was that there were more people visiting the show this year than last. She attributed the rise in attendance to a diversity in programming.
"People are starting to realize that it's not just a farmer show. It's an agriculture show, but there's things for everybody, there's stuff for whoever wants to be kicking the tires can kick the tires and the rest of the family can (do what they want). There's stuff for kids, there's stuff for spouses. I think it's that diversity (that makes it popular) and the kids auction was a huge success."
As for urbanites coming out to the show, Raven said there was strong showing of city folk, but rural visitors still comprised the majority of attendees. First and foremost the event is an agriculture show which means the emphasis will be on the rural components, but she said there are components that might be interesting to urbanites such as the petting zoo, the horse show, the bull sale, and agricultural information sessions.
One of the draws of the Agri-Show is the bull sale which draws both urban and rural watchers. Out of 75 bulls sold, this year's top bull, a Simmental, went for $15,500, from Willow Creek Farms; the average bid in the auction was $6,776.
Willow Creek's top selling bull was followed by a JayDawn Farms' Simmental for $15,000 and a Charolais for $10,000. The two farms have been selling their bulls at the Agri-Show for 14 years.
"It was very successful with lots of probably record number of bidders registered. It was very good," said JayDawn Farms owner Jason McQuaig, attributing the success of the sale to the cattle industry being in an upswing, good advertising, a good payment plan, discounts, and extensive delivery service.
"We stand behind our product and guarantee our product, which is very, very important and local support is outstanding that we get from all our neighbours and people from the north."
Raven said planning for next year will begin once the board has a chance to meet in the next couple of weeks.
"I think it'll be a really good, fruitful discussion. We're very pleased with how it went this year," she said.