WILD HORSE CASINO & LOUNGE OFFERS GAMING, GREAT FOOD & MORE
The Wild Horse Casino & Lounge is somewhat unique in the Peace Country.
It is the only facility in northwestern Alberta that offers slot machines as well as off-track betting for horse racing.
The Casino features 99 slot machines and VLTs while the lounge has over a dozen screens that can be dedicated to showing horse races from across North America. There are also two kiosks to place bets and the option of purchasing racing programs for any of the races featured on the screens. All of the screens in the lounge feature either horse racing or other sports.
The Casino holds, on a regular basis, free slot tournaments and most weekends you will entertainers in the lounge.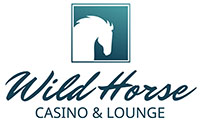 The Wild Horse is limited to those 18 and over, but if you want to bring the family you can visit the Pines Family Restaurant, which is located in the same venue. Both the Wild Horse and Pines are attached to Gordon Badger Stadium at J.D.A. Raceway.
Both the lounge and restaurant offer a wide selection of menu items and along with adult food, the Pines also has a kids' menu.
The Wild Horse is open 10 a.m. to 1 a.m. daily and the Pines 10 a.m. to 8 p.m.
If you are attending an event at Evergreen Park you can receive a discount on your room rate at the Park's preferred accommodations - Holloway Lodging. Hotels included are Best Western, Holiday Inn, Quality Inn and Super 8. Guests from those hotels also receive a 25% discount on food at the Wild Horse and Pines.
If you want to book a room at one of the Holloway facilities you can do so online here.