Lewis (pronounced Louie) Hawkes died in 1972 at the age of 70 from bronchial pneumonia.
He was born in Percival, Saskatchewan in 1901 before moving to the Peace Country in 1927 where he farmed near Grande Prairie. He retired in 1961 and moved into Grande Prairie.
He was one of the region's most active citizens and was involved in various associations and community functions.
He was on the county school board where he helped with the centralization of the school system and served six years as secretary-treasurer of the County Fair Board helping it grow from a tiny entity to a major, healthy attraction in the Peace Country. He was also secretary of the Grande Prairie Animal Breeders Association.
Lewis and his wife Olga had eight children. He never saw the building named after him.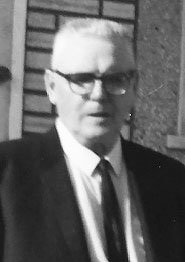 When first built the Lewis Hawkes Arena (originally called Lewis Hawkes Pavilion) was located at the County Fairgrounds on the east side of the city, where Crystal Park School is now located.
It served as minor hockey's home for several years and hosted broomball leagues and tournaments as well as agricultural events like rodeos and 4-H. It was also the venue Stompede used for its annual beer gardens and has hosted entertainers like Al Cherney and Buffy St. Marie.
The building was taken apart bolt-by-bolt and moved to the current site at Evergreen Park for the grand opening of the Park in 1982.
At Evergreen Park the Hawkes has been the site of many events including professional bull riding, rodeos, dog shows, agri shows, 4-H shows, gymkhana events, barrel racing, seed fairs, farmer's markets and much more. Brian Mulroney paid a visit during his term as Prime Minister.
After almost 50 years and hundreds of thousands of visitors and thousands of events, the building was showing its wear and in bad need of an upgrade.
In 2021, Evergreen Park received a provincial grant of $400,000 to upgrade the Hawkes. The County of Grande Prairie also contributed along with a benevolent local family and sponsors and the renovation has now exceeded over $1M.
Under the guidance of Evergreen Park General Manager Dan Gorman, the renovation process began in early-2021 with the first major event in the new-look building being the Foster's Peace Country Classic Agri-Show in March of 2022.
The name was changed to Lewis Hawes Arena as part of the upgrade and the entire two-building facility, which also includes the Drysdale Arena, will be called the Pavilion.
The hope is to acquire a naming rights sponsor for the two-building Pavilion in the near future as the upgraded venue prepares for its next 50 years of service to the community, but the Lewis Hawkes name will always remain on the building named after him.