The Evergreen Park Racing Club 2019 stable of horses is filling up.
Why Frank, Mu Samurai Warrior and Mon Mousse will be flying the Club's colors as the horses finish up their time in Ari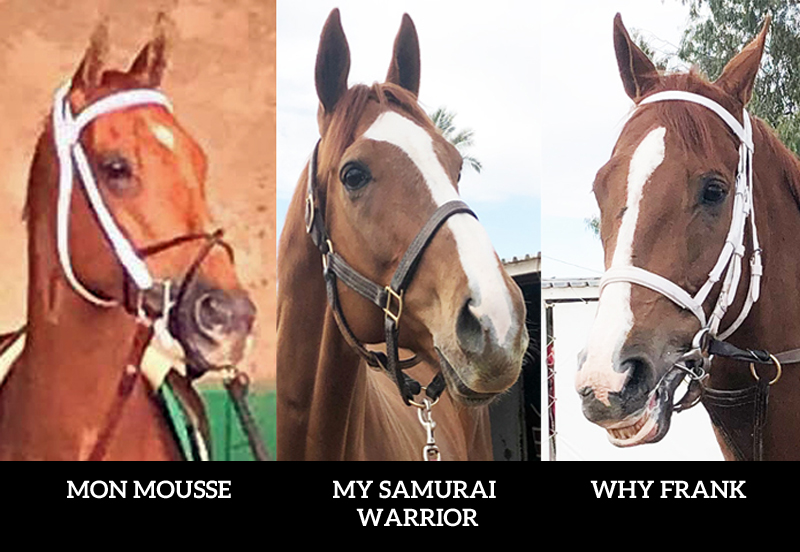 zona.
The trio was purchased by Club manager Norm Tremblay last week.
"The plan is to race them once more in Phoenix, ship them to Edmonton in early May and then have them ready for The Horses At Evergreen Park in Grande Prairie in July and August," said Tremblay.
 All three are stabled at Turf Paradise in Phoenix, Arizona and two of them will be racing there next week.
Why Frank has collected the most in purse money of the three ($250,993) with 12 wins, 19 seconds and 17 thirds in 75 races since first hitting the track in 2012.
Its best year was 2016 with $40,925 in earnings and an average of $5,846 per start after seven starts.
Why Frank has raced five times this year with a second, two thirds, a fourth and a fifth in five races with $4,757 in earnings.
He was foaled on April 29, 2009 in Kentucky and has competed in some prestigious races including the Cotton Fitzsimmons Mile (third place) and Luke Kruytbosch Stakes (second). All but one of Why Frank's races have been at either Turf Paradise or Canterbury Park in Minnesota.
My Samurai Warrior, foaled in Kentucky on March 14, 2009, has run to $233,718 in earnings since its first race in 2012. In 52 starts he has nine wins, five seconds and six thirds including a second and a third in two races this year and $2,628 in purse money.
Its best year was in 2014 with $53,970 in winnings after a first and third in nine starts.
My Samurai Warrior has competed on quite a few American tracks with starts at Turf Paradise; Canterbury; Oaklawn Park (Arkansas) Del Mar, Santa Anita, Betfair, Golden Gate and Fairplex in California.
Mon Mousse was foaled in California on April 26, 2011 and has $135,946 in earnings after 60 races since starting on the track in 2013.
Five of those starts came this year with s second and a third and $2,829 in earnings.
The horse had a big year in 2016 earning $52,240 after five wins, four seconds and a third in 14 races.
Turf Paradise has been Mon Mousse's home for most of the last two years, but the horse has also raced at Golden Gate, Los Alamitos, Sacramento, Santa Anita, Fresno, Santa Rosa, Oak Tree and Stockton in California.
Club members will get to cheer on, and place bets on, two of the horses next week as they appear on the screens at the Pines Restaurant & Casino from Turf Paradise.
On Monday in race No. 8 (5:44 p.m. GP start time) Why Frank leaves the gate against eight other horses in a 7 ½ furlong battle for a purse of $9,500.
On Tuesday it's Mon Mousse's turn against seven other horses in a 1 1/16 mile run for a purse of $7,000. That race, No. 7 on the schedule, starts at 5:13 p.m. Grande Prairie time.
The Pines Restaurant & Casino, located at Evergreen Park, is open 10 a.m. to 1 a.m. daily. It features a dozen screens showing live horse racing, two betting machines and a program printer.
Memberships in the Evergreen Park Racing Club 2019 are just $250 and can be obtained online at www.evergreenpark.ca Information on the Club is available by calling 780-532-3279.
This is the third year for the Club. In its initial year members got to visit the winner's circle four times and last year three times.
Members hoping to get a live look at their horses before The Horses At Evergreen Park can do so by travelling to Edmonton where the new Century Mile track will be opening near the Edmonton Airport on April 28.