BLACK FOREST PIECAKEN ON JAN. 22 TARA CENTRE TAKEOUT MENU 
What a way to finish!
Black forest piecaken is one of the dessert choices for the TARA Centre Takeout Dinner for Friday, January 22.
The meal is three courses starting with an appetizer; your choice from two mains (Mesquite smoked Chicago-style striploin roast or pan-fried medallions of chicken Scallapini); and either the piiecaken or blackberry shortcake for dessert.
Check out the entire menu and order online here; email alana@evergreenpark.ca; or phone 780-532-3279.
You can also view the menu through You Tube here.
TARA ENERGY SERVICES COMMUNITY OUTDOOR RINK OPEN
The TARA Energy Services Community Outdoor Rink at Evergreen Park is now open.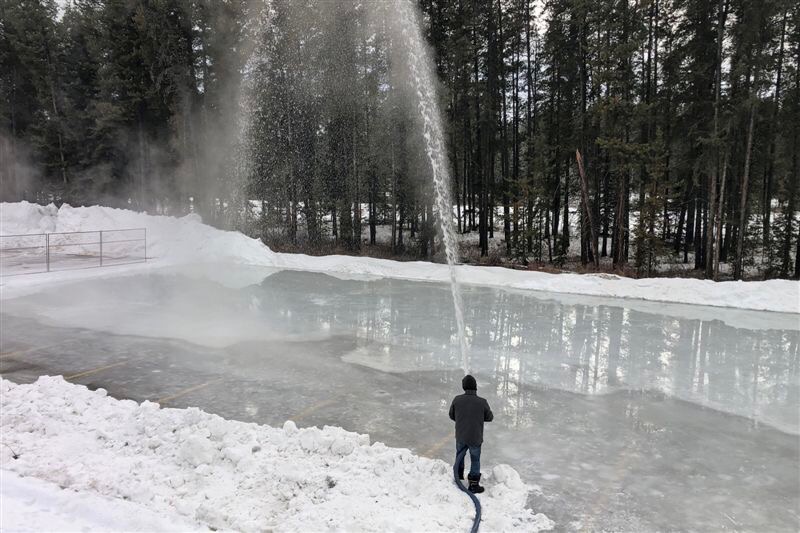 The rink, which is 150 feet by 60 feet, is located in the TARA Centre Parking Lot A.
Rink hours are 9 a.m. to 10 p.m. daily. Skaters are asked to leave by 10 p.m. as the gates to the parking lot will be locked at that time and we don't want people locked inside having to spend the evening in their vehicle.
Alberta Health Services protocols will be in place including social distancing and household grouping. A maximum of 10 people at one time will be allowed on the rink. We asked that if there are people waiting to skate those on the ice be considerate in regards to time spent skating.
Anyone using the rink does so at their own risk and will not hold Evergreen Park or the County of Grande Prairie responsible if injury occurs.
There are no washrooms available. Benches will be installed at either end of the rink and those changing into their skates on the bench are asked not to sit with someone outside their household.
Evergreen Park would like to thank TARA Energy Services, Big Stick Rentals, Elite Vac & Steam, Aquatera, Dynamic Energy and Moe Trudeau from MT Actions Photography, the Ice Man, for their help building the rink.

UNIQUE SLED DOG ADVENTURE AVAILABLE AT EVERGREEN PARK
There is something unique happening at Evergreen Park this winter!
Veteran Iditarod racer Aaron Peck Elevation Sled Dog Adventures and his four-footed athletes will be at the Park until the end of January ... and depending on snow conditions could extend the stay longer. Every date until the end of January is booked.

Read a Daily Herald-Tribune story about it here and find out more about Elevation Sled Doug Adventures, including booking information and updates on dates here.
Make it a day with a visit to the TARA Energy Services Outdoor Rink in Parking Lot A.


WE HAVE THE ROOM FOR WEDDINGS, MEETINGS AND MORE!
Need a place to hold a wedding, meeting, conference or other event in 2021?
We have everything you need whether it is a meeting for a dozen or an event for thousands ...and we cater too!
Give facility rentals manager Alana Sieben a call at 780-532-3279 between 9 a.m. and 4 p.m. during the week or email her any time at alana@evergreenpark.ca