EVERGREEN PARK - GEM IN THE FOREST
The Grande Prairie Regional Agricultural & Exhibition Society has roots that stretch back to 1910 – four years before Grande Prairie became an official village.
Today the Society, which oversees the development and daily operations of Evergreen Park, continues to operate as a charitable non-profit . . . but there have been a few other changes.
Back in 1910, the first agricultural fair and rodeo was held in what is now downtown Grande Prairie at a location near where the current farmer's market is located on 101 Ave. and 101 St.
It was an outdoor experience with displays of vegetables, canned goods and needlework and livestock events held nearby.
Over the years the "fairgrounds" moved to several locations - including a permanent race track and buildings on the city's east side - and today the Society is proud to call Evergreen Park, and its 1,200 acres on the south side of Grande Prairie, home.
The move to the southern outskirts of the city took place in 1982. Since it first opened, Evergreen Park has featured what is considered one of the best horse racing facilities in western Canada including a large covered grandstand, barns, buildings and other amenities.
A full-service restaurant and a casino with 99 slot machines and VLTs - the Pines Restaurant & Casino - is part of the Gordon Badger Stadium complex that includes the grandstand overlooking the sand and loam JDA Raceway oval measuring 5/8th of a mile.  A family restaurant was added in 2017.     
Canadian Professional Rodeo Association competitors as well as World Professional Chuckwagon Association, Western Chuckwagon Association – behind the reins of thoroughbreds - and All Pro Canadian Chuckwagon pony drivers compete annually on the track during Stompede in the spring – usually late May into early June. The best cowboys from Canada and many from the U.S. and other countries take part in Stompede's rodeo.
For two months in the summer – July and August – Horse Racing Alberta takes over the track weekends giving local bettors a chance to wager on their favorite jockey or horse at The Horses At Evergreen Park on JDA Raceway.
Evergreen Park has hosted prime ministers, RCMP Musical Rides, logger competitions, county fairs, forestry shows, petroleum shows, weddings, graduations, outdoor mo

vies, Special Olympics, archery competitions, agri-shows, volleyball tournaments, home shows, RV shows, sports expos, dog shows, wedding shows, roller derby, car shows, monster trucks,  seminars, retreats, meetings, horse competitions, conventions, Nitro Circus, mud bogs, MMA fights, equestrian competitions, national conferences and many other shows, acts and events since the move south of the city.
With away from the "fairgrounds" east of the city came another change.
Evergreen Park, while certainly capable of hosting a "fair" of any size, became much, much more than a "fairground". It is the largest multi-purpose, multi-facility and most-used major venue north of Edmonton.
With 500,000 visitors annually the road into Evergreen is well travelled year-round.
During the course of a year most city and county residents of greater Grande Prairie have taken in at least one "event" at the park whether it be Stompede, Festival of Trees, Wedding Show, outdoor skating rink or one of the many trade shows held on the grounds. During that same time thousands from around the Peace Country – which encompasses northwestern Alberta and northeastern British Columbia – make the short trek to the Swan City to take advantage of Evergreen and what it has to offer.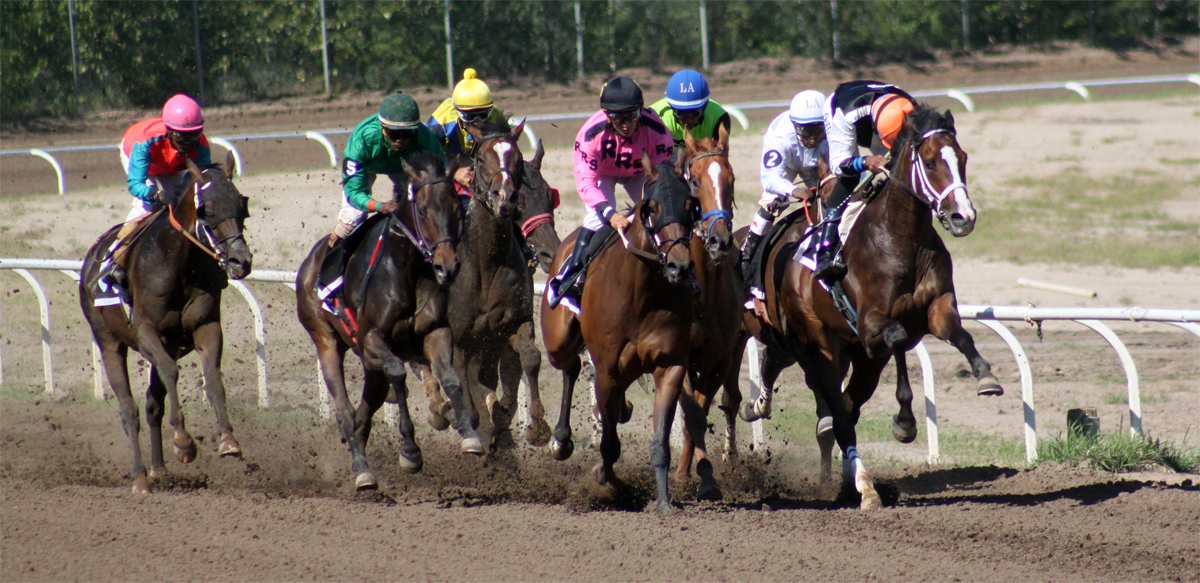 In the winter the indoor horse stalls are usually full. It is the perfect venue to train or just pleasure ride on a daily basis in one of the two heated indoor arenas – the Drysdale Centre and Lewis Hawkes Pavilion. In November-December the Heavy Horse Pull Club's Northern Spirit Light Show delights upwards of 40,000 annually.
Travellers from around North America stop by during May to October to take advantage of the Evergreen Campground – which features 76 spots, all equipped with electricity, water and a dumping station along with a general store and playground. It is just steps away from The Pines Restaurants, the casino, ball diamonds, archery centre and the TARA Centre and the many events held during the spring and summer at the Park.
The TARA Centre has helped turn Evergreen Park into the largest full featured exhibition facility north of Edmonton.
 The TARA Centre was opened in 2008 and is 105,000 square feet. It features a 46,200 square-foot venue, called Evaskevich Hall, which has hosted concerts by the likes of Dwight Yoakam, Serena Ryder, Big Wreck, Hedley,
Blue Rodeo and Paul Brandt and is used for trade shows, graduations and other events where lots of room is needed. It also houses three 6,600 square foot salons (one of them named NuVista Energy Salon) and four meeting rooms in the 2,000 square foot range each.
There is also a huge foyer in the TARA Centre as well as administration offices for Evergreen Park staff.
Clarkson Hall is a 9,600-square-foot building that has been part of Evergreen since Day 1. It hosts weddings and other events for up to 500 people. It underwent a major renovation making it one of the best wedding/banquet facilities in the area. A rustic log building, the Oldtimer's Cabin, is also available for use for groups of up to 50.
Evergreen Park also features an archery centre as well as an equestrian complex that includes permanent jumps and water hazards. The great expanse of Evergreen Park also allows competitive cross-country horse competitions to take place using the equestrian facility, the track and the picturesque trails through the spruce and pine trees throughout the park.
The Park features an indoor playground located in Badger Stadium that includes bouncy castles, tot spot and a private party area from October to April.  
The Park is also home to the Centre For Resource Excellence and Innovation, which has won an award for its tree planting pilot project and the hosts Grande Prairie Minor Baseball Association and its 12 diamonds.
Located on the southern outskirts of the city of Grande Prairie - population 68,000 - Evergreen Park is just minutes away from hotels and shopping centres.
Evergreen Park – experience it!