ANOTHER GREAT SEASON OF HORSE RACING WRAPS
After the seventh race on the final day of The Horses At Evergreen Park at J.D.A. Raceway on Sunday, August 26 it was difficult to tell who had the widest grin – Nellie Pigeau, Blandford Stewart or Lyle Magnuson. Pigeau was happy because that race clinched her the Top Trainer award for the season at Evergreen Park.
Stewart, awarded Top Jockey for the GP season, was grinning because he was on the back of the horse, Closing Katie, that won the title for Pigeau.
And Magnuson, the top trainer at both The Horses At Evergreen Park and Rocky Mountain Turf Club in Lethbridge last year (and also the trainer for the Evergreen Park Racing Club 2018) was smiling because he was happy for both of them.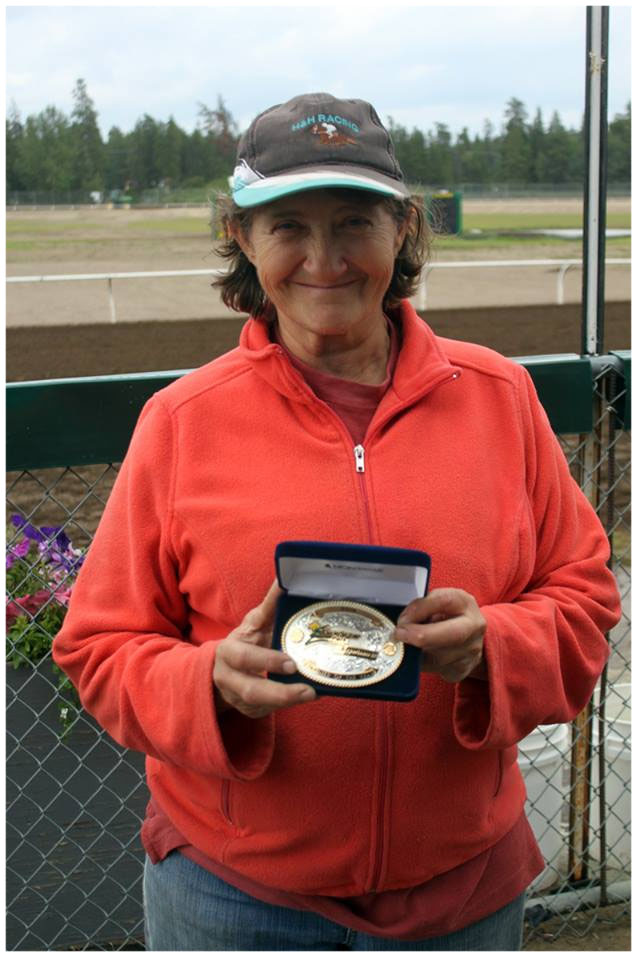 Grande Prairie's Pigeau (photo right) - who shows up with horses at all of the B Track races spring, summer and fall – won her first Top Trainer award. She entered races 62 times with 17 wins, 14 seconds and 11 thirds and won $67,809 over the summer season at J.D.A. Raceway at Gordon Badger Stadium.
Stewart, who is edging towards a half-million dollars in winnings over a career that started in 2009, rode 30 winners after 115 tries and had 29 seconds and 26 thirds for $144,360 in winnings.
Magnuson was a close second in wins with 16, had 12 seconds and 29 thirds and $65,809 in winnings in Grande Prairie in July and August.
Stewart (photo left) finished well ahead of runner-up Larris Allen in the jockey race. Allen had 25 wins, 18 seconds and 23 thirds after 94 mounts and $99,612 in winnings.
After nine races of on-and-off rain Sunday, the season ended on a sunny note for Race 10 – Mr. Mike's Paint The Park Purple – Race For The Cure (top photo winners circle).
Fittingly enough it was Blandford behind the reins of Big Miss Steak in that one – six furlongs for a purse of $8,500 in the Purple Day stakes race.
That race was the final stakes race of the season as well as the season-ender for the Horses at the Park.
One race before was the $30,596 Evergreen Park Distance Challenge – over 870 yards.
Glittering Blue, with Stewart in the saddle yet again, won that for owner Cody Eagle Bear and trainer Alvin Cross Child.
Over the course of the season – 20 days of racing with three rain-outs (something very unusual for Evergreen Park) – there were 21 "stakes" races.
The biggest of those was the Alberta Derby at Evergreen Park held on Sunday, Aug. 5.
The top four horses from that race – Regal Max, Shimshine, Gem Alta and Fort Mac – competed in the Canadian Derby at Northlands Park in Edmonton on August 25. That race was won by Sky Promise – a horse co-owned by Evergreen Park Racing Club 2018 manager Norm Tremblay. Shimshine was third.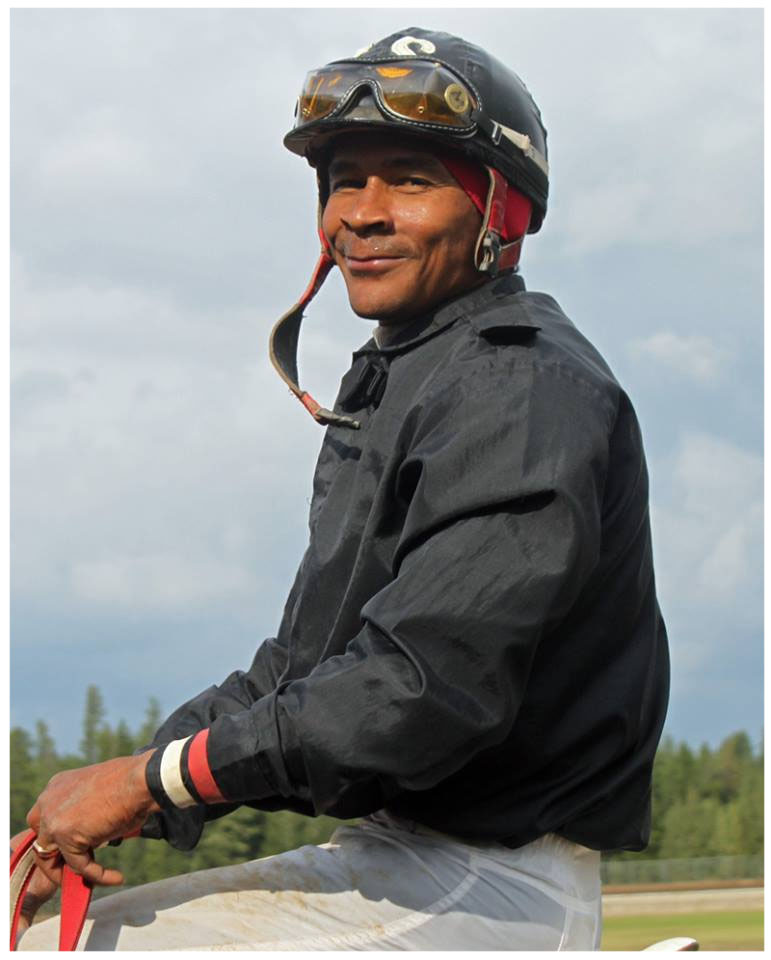 The Alberta Derby was the top race for thoroughbreds at the Park over the summer while the highlight for the quarter-horses was the John Deere Juvenile Challenge. That race, a regional final, was over 350 yards for $31,000 in prize money. Singles Cruise, owned by Janice and Barry Sather, won and will head down to the United States in November for the big finale.
Another biggie, the Empire Oilfield Solutions Grande Prairie Derby, was held on July 29.
Chilcotin Hill, owned and trained by Randy Hudson, won that one with Wilco's Agreement Second and Catfish Tuesday third.
The season started on Saturday, July 7 as the horses, owners, trainers and others moved from Lethbridge to Grande Prairie after two months of racing in the southern Alberta City.
"It's hard on the horsemen to travel from one meet to another, with such a short time frame, but everyone works together to make it happen and the excitement begins," said Evergreen Park racing manager Pat Hill.
Hills says the Park works in conjunction with the Alberta Community Thoroughbred Racing Association, Alberta Quarter Horse Racing Association, American Quarter Horse Association and Horse Racing Alberta. 
"We worked with the Associations to provide top quality racing entertainment to our community," said Hill of The Horses At Evergreen Park, one of only four venues in the province that offers both live and off-track horse betting.
Again, this year the Park catered to families at Gordon Badger Stadium.
"We are a family-oriented facility, having a kid's zone and candy toss, along with other activities so that the little ones get to be a part of the action," said Hill.
"We thank everyone for their continued support and we look forward to seeing everyone at The Horses At Evergreen Park again in 2019."
Top trainer Pigeau, top jockey Stewart, and Magnuson too, are all in Lethbridge now as the B Track season continues September and October.
Anyone interested in following the horses they watched in Grande Prairie the last two months can continue to do so, and also bet, as those races will all be on screens at the Pines Restaurant & Casino at Evergreen Park.