REGAL MAX WINS ALBERTA DERBY
Four times in the last year Regal Max has had to eat the dust of Shimshine at the finish line in races at Northlands Park in Edmonton.
Sunday the two battled on J.D.A. Raceway at Evergreen Park for the first time and this time it was a reversal of fortunes.
Regal Max got to visit the winner's circle in what was the biggest race of the careers of both three-year-old horses - the Alberta Derby at Evergreen Park on Sunday- and Shimshine had to settle for second place.
Bay gelding Regal Max, owned by Almac Racing Stable and Kerredge Farm and trained by Rick Hedge, finished the 1 1/16 race in record time - 1:44.23.
With jockey Sha aree Muir in the saddle, Regal Max took control early leading at each marker, including by three lengths down the stretch and 1 3/4 at the finish line.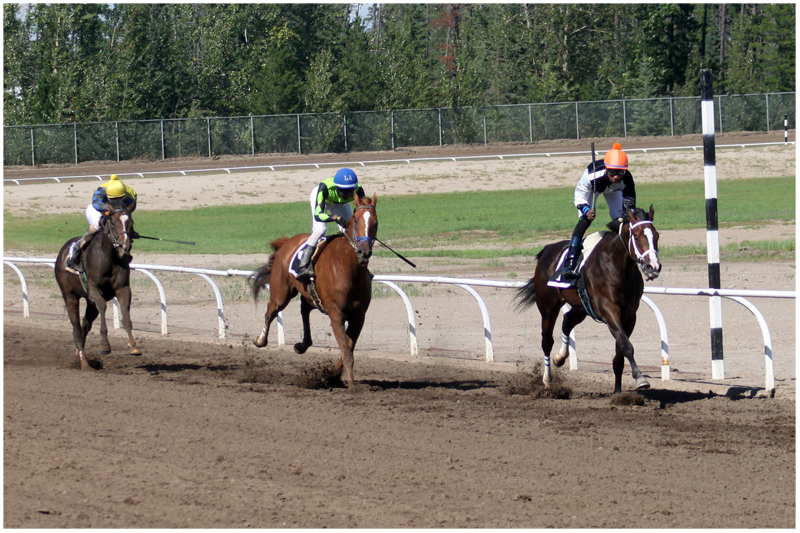 Shimshine, owned by White Pine Ranch and trained by Elige Bourne, was fourth at the 1/4 pole, third at the halfway and 3/4s marks and finished 1 3/4 back at the finish line in front of Gordon Badger Stadium.
Regal Max won $31,111 of the $58,700 purse and now has $109,251 in career earnings with three wins, seven seconds and a third in 12 races. Shimshine took home $15,262 for second.
The horse with the most local interest was Gem Alta, trained by Tim Rycroft of Teepee Creek.
Gem Alta, who had won his last race by 9 1/2 lengths in Edmonton in mid-July, was one of the favorites heading into
Sunday. He ended up a game third and left Evergreen Park with $7,044 in winnings.
Fort Mac was fourth, Miner Heat fifth, GP Derby Champion Chilcotin Hill sixth, Chisum G seventh and Slamin Sam eighth.
The Alberta Derby, which started in 1931, was held at Evergreen Park for the fourth time and again this year's version
was well-attended under sunny skies.
It is expected one or more of the horses that took part in Sunday's Alberta Derby will be making an appearance at the Canadian Derby in Edmonton on Aug. 25.