33rd ANNUAL PEACE CLASSIC SUCCESS
The 33rd annual Peace Country Classic Agri-Show went off without a hitch March 8-10 at Evergreen Park in Grande Prairie.
The three days of exhibitions and events drew, once again, good crowds to several venues
All three days included speakers talking about agriculture-related things in the meeting rooms in the ENTREC Centre. That big building is where most things happened and where over 120 exhibitors engaged the public in booths inside and outside the building.
The Bio-Cycle Solutions Kids Zone was in the Keddie's Korner Room in the ENTREC Centre all three days of the Show. The Zone included movies, coloring and on Saturday a presentation by the Philip J. Currie Dinosaur Museum.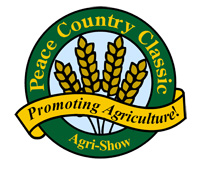 The Mitchener Allen Bids For Kids Auction program went Saturday in the ENTREC Centre with a learn-to-auction session in the IPAC Room in the ENTREC Centre and then a live auction in the afternoon. Participants brought a Food Bank item to the ATB booth to collect "money" to bid on items.
The Peace Crafts &  Creations Sale & Show went in the ENTREC Centre all three days, located in the LSM Room and Chuckwagon Heritage Rooms just off the Grand Hallway.
Friday was a BIG day at the Park highlighted by the ATB Financial Northern Classic Bull Sale  in the Drysdale Centre.
The County of Grande Prairie Farm Family Events also went Friday with a luncheon in the Calfrac Room (Kin Room) in the ENTREC Centre and then the Farm Family Banquet in Clarkson Hall where the Farm Family of the Year, the Slettes of LaGlace, were honored.
The AFSC Petting Zoo, always a popular spot for the kids, went all three days in the Drysdale Centre.
The Keddie's Horse Program was chock full of presenters. It went in the Lewis Hawkes Pavilion all three days.
The 2019 show goes March 7-9. Registration forms and other information on the 2019 event will be available soon.
For more information call the Evergreen Park office at 780-532-3279.