2020 IS THE 35TH YEAR OF THE AGRI-SHOW
We are celebrating the 35th anniversary of the Foster's Peace Country Classic Agri-Show from March 12-14 in 2020. It is the largest show of its kind in northwestern Alberta and one of the largest in western Canada.
Hundreds of exhibitors will be on site both inside and outside the TARA Centre, which is also being used for seminars, a special public breakfast starting at 8 a.m. on the Saturday, kids auction, kids zone and other events during the Agri-Show.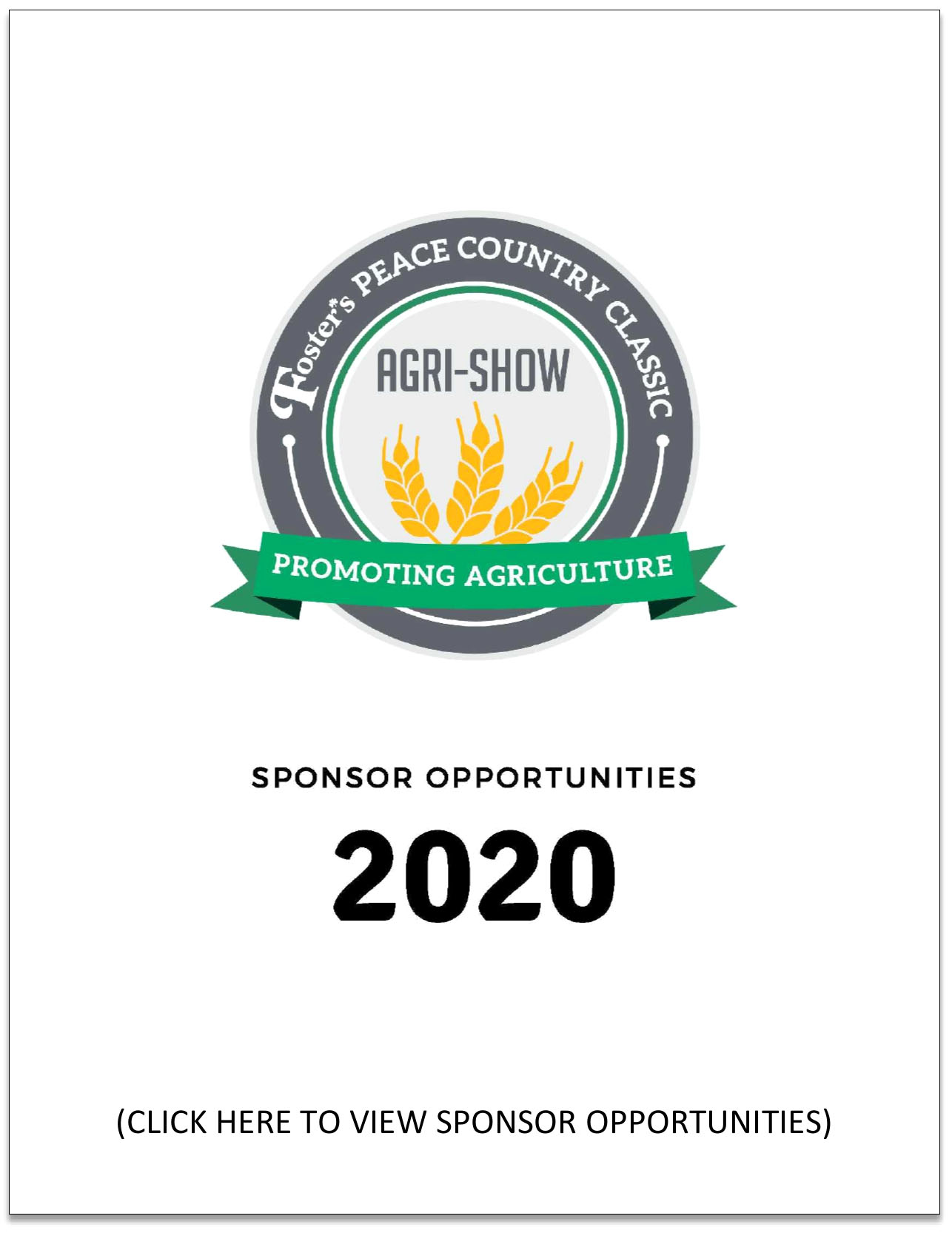 Anyone interested in exhibitor space can click Exhibitor Registration to book your spot or spots. After you have done that you can click on Exhibitor Rental & Services for all of your booth needs through Superior Show Service and if you click on Show Layout Illustrations you will find a layout of the TARA Centre exhibitor locations.
We also have a variety of partnership opportunities available from presenting, to signage to program ads. A great way to have your brand on display at one of the most-attended agricultural events in Western Canada. Click on the Sponsor Opportunities graphic to the right for details.
While the TARA Centre is the focal point of the show, it is one of several venues at Evergreen Park used during the Agri-Show.
Both the Drysdale Centre and Lewis Hawkes Pavilion will be hosting major events including the Northern Classic Bull Sale & Show, Horse Show, AFSC Petting Zoo and Youth Livestock events.
Clarkson Hall, newly-renovated thanks in part to a Canada 150 grant, will be where the Farm Family of the Year is celebrated with a banquet for about 500 people and JDA Raceway at Gordon Badger Stadium is where the second annual skijoring races will be held. That event was so popular in 2019 it had to be moved from a parking lot to the 2,700 seat stadium.
Evergreen Park Kids zone - our indoor playground that features bouncy castles and a tot play area - will be open during the Show. It is located in Gordon Badger Stadium at JDA Raceway.
"Tradition, community spirit, and the opportunity to keep abreast of new technology – these are at the heart of the appeal agricultural exhibitions have long held for Alberta's rural communities.
"This show presents a tremendous variety of displays and exhibits, and provides information on all aspects of farming and rural life. There truly is something for everyone at the Peace Country Classic Agri-Show."
Those words were spoken by Alberta's Minister of Agriculture LeRoy Fjordbotten just before the first Agri-Show in 1986. They still apply today as we are about to celebrate the 35th Agri-Show at Evergreen Park.
Whether you are a farmer looking to talk to manufacturers and distributors; want to sit in on a seminar to learn more about some aspect of the agricultural industry; or are an urban family looking to experience a taste of rural life the Agri-Show is the place to be.