GETTING READY FOR THE 34TH CLASSIC!
The 34th annual Peace Country Classic Agri-Show is being held March 7-9, 2019 at Evergreen Park. 
The popularity of the Show usually means a sell-out for booth space well before the show begins, so those interested in taking part in 2019 are advised to get their applications in as soon as possible.
But, first, those who participated in 2018 have a chance to return and are given priority if their exhibitor application for 2019 is received by the Show office by November 2, 2018. They must also be in good standing with Evergreen Park.
New exhibitors will be considered for 2019 once existing exhibitors that meet the Agri-Show criteria are confirmed.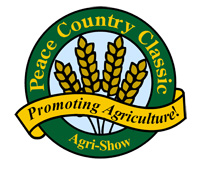 New exhibitors will be considered based on the following conditions:
a) The exhibitor has provided a letter describing their business or a short description on the contract and how it relates to the agriculture industry 
b) By date submitted
c) There is space remaining in the show.
d) The exhibitor is considered to be in good standing with Evergreen Park.
Agri-Show organizers will do their best to accommodate exhibitor requests. However, it should be noted space location(s) will not be guaranteed.
If you are interested in taking part in the 2019 Show there is a link to the application form by clicking on the EVENT APPLICATION button at the btoom of the page.
You will also need to fill out the SHOW SERVICES REQUEST information which can also be downloaded by clicking on the button on the right.
The VENUE MAP shows an outline of the exhibitor space available for the 2019 Show.
There are also a variety of sponsorships available. Click on the SPONSORSHIPS button for information.
Sponsors from 2018 are given priority and have until Friday, Oct. 12 to confirm their involvement for 2019. After that date, if unclaimed, their sponsorship will become available to anyone.
For more information call the Evergreen Park office at 780-532-3279.