Evergreen Park is proud to have a long-time Peace Country family name now part of its most prestigious annual agricultural event.
The Peace Country Classic Agri-Show, started at Evergreen Park in 1986, will now be called Foster's Peace Country Classic Agri-Show. The initial agreement will be for five years.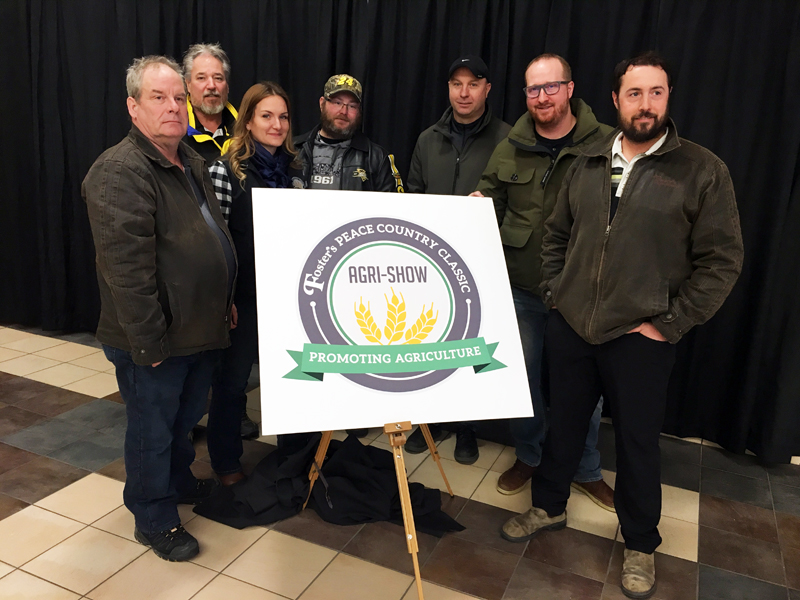 "The board of directors of the Show are pleased to welcome Foster's on board as the naming rights sponsor of the agri-show as we head into the 34th annual event March 7-9," said board president Kelvin Kirkham. "Foster's has been an agri-show supporter for many years both as an exhibitor and a sponsor and have been very active in the community for many decades. We are delighted to have the Foster's family join the Evergreen Park and agri-show family."
Kirkham is far left in the photo that also includes, from left to right, Dave Martin, Nicky Hemingson and Clinton Slette of the Agri-Show board and from Foster's Shayne Sieker, Jesse Foster and Jason Hipkins.
The company began in the 1950s when Johnny Foster established the Beaverlodge Seed Farm in Beaverlodge. Later known as Foster's Seed and Feed, the company grew to be the largest privately-owned buyer and processor of creeping red fescue in Western Canada.
The business first expanded in the mid- '90s when the focus changed from being solely a creeping red fescue-based company to a total farm solution for their customers. This meant adding such products and services as cereal and canola seed, chemical, field scouting and fertilizer sales to the portfolio.
Another expansion in 2008 introduced a sister company known as Foster's Agri -World. The natural transition into the sales and service of agricultural equipment has been one with much success, as customers know and trust Foster's industry knowledge and abilities. Foster's has continued to grow its portfolio throughout the years to include such manufacturers as Bourgault, Versatile and CLAAS.
In 2014, Foster's expanded again with the opening of Foster's NAPA Auto Parts at its Agri-World location in Beaverlodge. The addition of NAPA Auto Parts has continued their commitment of customer service to the people of Beaverlodge and the Peace Country.
 In 2016, expansion continued with a new Agri-World location in Fairview, Alberta. This location was brought on board to better meet the wants and needs of its customers, whether it is on the equipment or the farm service side of the business.
In 2017, Foster's Seed and Feed expanded into Fort St. John opening a warehouse to better serve their customers throughout the B.C. Peace.
The latest Foster's expansion was in 2018 when they acquired Kubota Country in Fairview.
Their reputation is built on integrity and delivering high quality product and service. They are proud of their deep roots in agriculture and the community.