Dad had more wins, but the lad ended up with more money as local trainers/owners made their mark at the first-ever day of racing at Century Mile Race Track & Casino in Edmonton on Sunday.
Dad Tom Rycroft (photo right) will forever be able to say he won the first-ever race at the new facility, located south of the city of Edmonton near the International Airport.
In the opener his horse, Born In A Breeze, ran down the leader on the mile course, with jockey Rigo Sarmiento on board, and trotted off with top money of $15,000 in the $25,575 event run over 5 ½ furlongs.
Tom both trains and is part-owner, along with Dale Stark and Lewis Mailer, of Born In A Breeze.
The son, Tim Rycroft, can say the horse he trains, Trooper John, got a second in the first-ever race at Century Mile.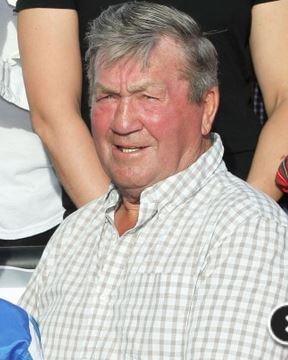 Trooper John, former winner of the Canadian Derby and Alberta Horse of the Year, had the lead coming home, but was run down by Born In A Breeze. Trooper John won $11,148 for his efforts for the ownership group from Riversedge Racing Stables.
Regal Max, who had won the Alberta Derby at The Horses At Evergreen Park last summer, was fifth in the six-horse field.
Tom and his group finished the day with two wins, a second and two sevenths taking home $25,074 while horses trained by Tim had a first, two seconds and two fourths and earned $26,058.
Tom's other win came in the fourth race of the day – over five furlongs. In that one Unspoken Assassin finished first and put $5,160 into the pockets of the ownership group.
Tim's lone win was in Race 8 when Stone Carver crossed the line first after five furlongs winning Riversedge $12,420.
Grande Prairie's Darcy Hawkes was trainer of two horses for local owner Dianne Delaney on Sunday.
Mr. Pucci took a second in Race 8 winning $4,140 while Amy Jean was fifth in Race 7 and paid for some oats with $414 in earnings.
Grande Prairie's Ed Welsh and his Deltin Stables group will be looking for better things later after their horse, Onetogo, was eighth in the ninth and last race of the day.
Attendance for the opener was 5,000 and the handle was $200,000.
Local race fans can start watching for the three Evergreen Park Racing Club 2019 horses – Why Frank, Mon Mousse and My Samurai Warrior – at Century Mile.
They will be on their way soon from Turf Paradise in Phoenix, Arizona where they started the 2019 racing season.
The Club horses will train and race at Century Mile before moving to Grande Prairie for The Horses  At Evergreen Park in July and August.
All races from Century Mile, and other tracks around North America, are available to watch on 12 screens at the Pines Restaurant & Casino at Evergreen Park. There are also betting machines and programs for all races are available.
On Saturday, May 4 the Pines is hosting a party for the Kentucky Derby. There will be cash and other prizes available on Derby Day. The Pines is open 10 a.m. to 1 a.m. daily.