There is definitely going to be Grande Prairie area flavour when the first-ever race day is held at the new Century Mile Race Track & Casino in Edmonton on Sunday.
Local trainers or owners are involved in eight of the nine races slated for the opener – led by the Rycroft family who have 11 horses entered in seven races.
Tim Rycroft (photo right) and his father, Tom, have horses in the first-ever race. It's a 5 ½ furlongs run for three-year-olds and up that leaves the gates at 1:45 p.m. with a $25,000 purse.
Tim is trainer for Trooper John, which is a former Alberta Horse of the Year and winner of the Canadian Derby in 2017. He trains for Riversedge Racing Stables.
Tom is owner of Born In A Breeze, along with Dale Stark and Lewis Mailer - a seven-year-old that has won over $300,000 in its racing career.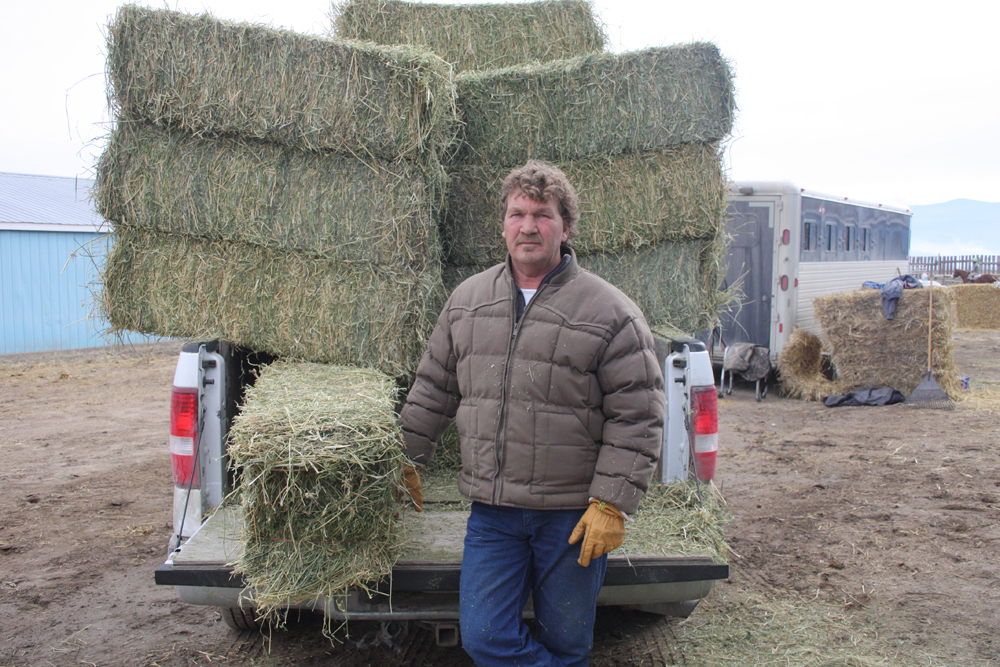 In Race 3, with a 2:45 p.m. start time, Tom is trainer of a horse called Trial By Nite (belonging to the same ownership group). That race has $19,000 available and is over five furlongs.
Tom's group, with him as trainer, have a horse entered in Race 4 – which goes at 3:15 p.m. It is called Unspoken Assassin and will be looking at a share of the $7,000 in purse money after five furlongs.
Riversedge Racing, with Tim as trainer of Princess Robbi, will be hoping she can take most of the $19,000 purse in a five furlongs battle for maidens/fillies in Race 5 at 3:45 p.m.
Tim is trainer for C and H Duggan Farms Ltd. and their horse Texas Alley Kat in Race 6 at 4:15 p.m. while Tom, as trainer, and his ownership group will watch Moon Blossom go off in the same race, which offers a $7,500 purse and is five furlongs.
Dianne Delaney of Grande Prairie is owner of a horse called Amy Jean, trained by Grande Prairie's Darcy Hawkes, entered in Race 7 at 4:45 p.m. Tim trains Riversedge horse Cry Uncle in that race, which is five furlongs for a purse of $20,700.
Four of the seven horses entered in Race 8 at 5:15 p.m. have Grande Prairie ties.
Hawkes is trainer for Mr. Pucci, owned by Delaney; Tom and his group have Sand Harbor; and Tim has two horses he looks after for Riversedge – Stone Carver and Gem Alta – in that battle for $20,700 over five furlongs.
Local race fans may recall Gem Alta from The Horses At Evergreen Park Alberta Derby last summer. Gem Alta was third at the Derby at J.D.A. Raceway.
Grande Prairie's Ed Welsh and his Deltin Stables group finish up the local flavour in the last race of the day at 5:45 p.m. Onetogo is the horse, trained by E.J. Keller, chasing part of the $9,200 purse over five furlongs.
Onetogo, a three-year-old, had five starts last year winning $9,555 with a first, two seconds and a third.
Beyond the trainers and owners there is more Grande Prairie influence at Century Mile.
Jamie Blackwell, who worked up in the booth during The Horses At Evergreen Park for many years and also looked after the Evergreen Horses Facebook page and You Tube race replays, is now working at Century Mile.
The three horses owned by the Evergreen Park Racing Club 2019 – Why Frank, My Sumurai Warrior and Mon Mousse – will be shipped to Century Mile from Turf Paradise in Arizona early next month and will compete and train there until The Horses At Evergreen Park, which goes July and August.
Anyone interested in watching, and betting on, the races from the first day at Century Mile can do so at The Pines Restaurant & Casino at Evergreen Park. All of the races will be shown on the Pines screens. There are two betting machines and a program printer at the facility, which is open 10 a.m. to 1 a.m. daily.