Why Frank's debut at The Horses Of Evergreen Park was somewhat of a struggle.
The Evergreen Park Racing Club 2019 horse finished sixth among eight horses Saturday.
Leaving the gate last on the far outside from No. 8, the Club steed moved to seventh in front of the grandstand for the first time and slowly crept up after the first turn putting push on to battle for fourth down the backstretch, but then faded a tad in the homestretch finishing about nine lengths behind winner Master's Bluff, trained by Grande Prairie's Nellie Pigeau.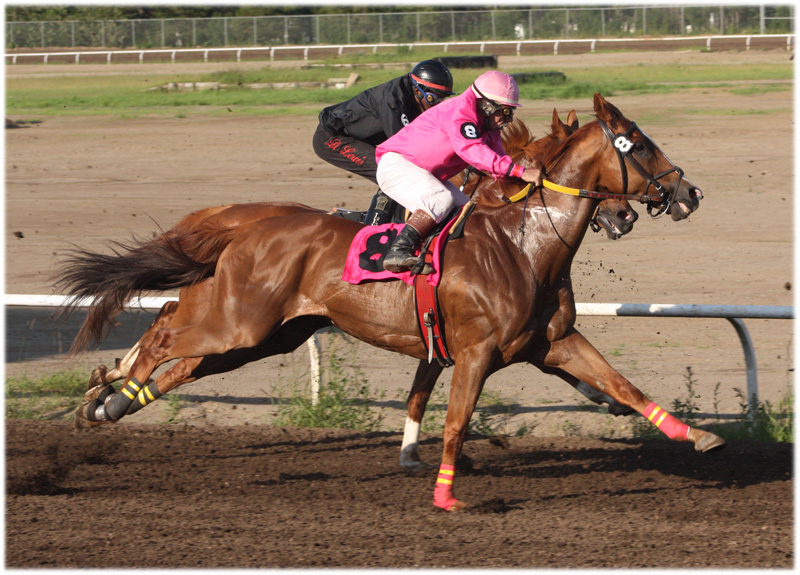 Hurculean was second, Klondike Ike third, Red Wings fourth and Wood Machine fifth. Prairie Plan finished behind Why Frank in seventh and Endless Courage was last.
The race was over seven furlongs with a purse of $4,500. Carl Hebert, who also rode Club horse Mon Mousse to second on Friday, was in the saddle on Saturday.
The Club horses will likely be off until the weekend of July 26-28, but there is lots of racing between now and then.
The weekend wraps up on Sunday (1 p.m.) and is highlighted by the J.D.A. Grande Prairie Derby.
Racing goes next weekend with 6:30 p.m. first posts Friday and Saturday and then again 1 p.m. Sunday. On the 21st both the Weiner Dog Derby and Hot Dog Eating contest will be held.
ARCHIVES
Club Horses Make Alberta Debut