FOSTER'S PEACE COUNTRY CLASSIC AGRI-SHOW MARCH 9-11
The Foster's Peace Country Classic Agri-Show is set to begin a three-day run March 9.
The Show feature exhibitors inside and outside the TARA Centre from 10 a.m. to 5 p.m. Thursday and Friday and from 10 a.m. to 4 p.m. on Saturday. The Peace Crafts & Creations Show & Sale goes the same three days and times. The Michener Allen Kids Auction goes Friday at 1 p.m. in the foyer of the TARA Centre.
For a complete list of exhibitors click here.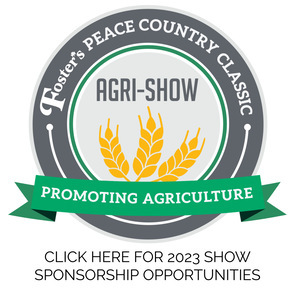 The County of Grande Prairie Farm Family Banquet, a ticketed event, goes on Friday in Clarkson Hall.
The annual Peace Classic Bull Sale will be held in the Drysdale Arena starting at 1 p.m. on the Friday.
The Keddie's Horse Program goes Friday and Saturday in Lewis Hawkes Arena. It includes various clinics and demonstrations. The booths and demos are open 2-8 p/m/ on Friday and 10 a.m. to 4 p.m. on Saturday.
A used tack sale is being held from noon to 4 p.m.
For the complete Keddie's Horse Program schedule click here.
Canyon Rigging Thunder In The Pines Skijoring will be held at J.D.A. Raceway at Gordon Badger Stadium starting at 5 p.m. on Saturday.
The Dawson Creek Co-op Youth Livestock Program goes on the Saturday in the Drysdale Arena. This year there are categories for heifers and steers and there will be a costume event. It features youth six to 18.
There is no admission charge to attend any of the events.
Click here for a complete schedule of events.
The Show is also serving as a fund-raiser for STARS in the form of a Peavey Mart-sponsored 50/50 raffle. You can order your tickets online here or get them in person from the Peavey Mart sellers t the Show.
If you would like to be an exhibitor at the event call Show manager Denise Cook at 780-532-3279 if you are interested in sponsorship get hold of Marketing & Sponsorship Manager Don Moon at 587-298-0548.