2018 Agri-Show Planned For March 8-10
The annual event is still months away, but planning has begun on the 33rd annual Peace Country Classic Agri-Show being held at Evergreen Park March 8-10, 2018.
"The registration package has been mailed out and is available online and the first organizational meeting is coming up real quick so the wheels have started to churn on the 2018 event," said Evergreen Park Marketing & Sponsorship Manager Don Moon. "We had a great show in 2017 and with the turn towards the better in the economy in the Peace Country expectations are the 2018 event will be as good or better."
Anyone wanting a booth or display area at the 2018 show can download the registration package. Click here to download registration package.
The 2018 sponsor handbook will be out shortly, said Moon. Anyone interested in being a sponsor can contact him at 780-532-3279.
Agri-Show president Sonja Raven said the 2017 show went exceptionally well with vendor slots selling out both indoors and outdoors.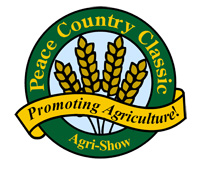 "Despite the horribly cold weather, that made it a little challenging for our outdoor exhibitors, but they still said it was good and in speaking with a number of vendors inside, they were really pleased with it. They said there was really good traffic and they were really happy they came."
As for attendees, Raven said the overall impression was that there were more people visiting the show this year than last. She attributed the rise in attendance to a diversity in programming.
"People are starting to realize that it's not just a farmer show. It's an agriculture show, but there's things for everybody, there's stuff for whoever wants to be kicking the tires can kick the tires and the rest of the family can (do what they want). There's stuff for kids, there's stuff for spouses. I think it's that diversity (that makes it popular) and the kids auction was a huge success."
As for urbanites coming out to the show, Raven said there was strong showing of city folk, but rural visitors still comprised the majority of attendees. First and foremost the event is an agriculture show which means the emphasis will be on the rural components, but she said there are components that might be interesting to urbanites such as the petting zoo, the horse show, the bull sale, and agricultural information sessions.
One of the draws of the Agri-Show is the bull sale which draws both urban and rural watchers. Out of 75 bulls sold in 2017 a Simmental, went for $15,500, from Willow Creek Farms; the average bid in the auction was $6,776.
Willow Creek's top selling bull was followed by a JayDawn Farms' Simmental for $15,000 and a Charolais for $10,000. The two farms have been selling their bulls at the Agri-Show for 14 years.
"It was very successful with lots of probably record number of bidders registered. It was very good," said JayDawn Farms owner Jason McQuaig, attributing the success of the sale to the cattle industry being in an upswing, good advertising, a good payment plan, discounts, and extensive delivery service.
"We stand behind our product and guarantee our product, which is very, very important and local support is outstanding that we get from all our neighbours and people from the north."
For information on the 2018 event contact Evergreen Park Assistant General Manager Denise Greenlaw at 780-532-3279.