GP DERBY WINNER IN CANADIAN DERBY
There is going to be some local flavor at the 93rd running of the Canadian Derby at Century Mile Racetrack & Casino in Edmonton on Saturday.
The Horses At Evergreen Park racing fans will remember one of the entries – Sea Splendor (black in photo).
The Kentucky-bred three-year-old won the Grande Prairie Derby at J.D.A. Raceway on July 31st.
Sea Splendor, owned by Highfield Investment Group, Inc./Dialed In Racing Stable/Graham Thoroughbreds/True North Stable, is trained by Craig Smith.
At the GP Derby he finished just ahead of runner-up El Fantasma and well in front of third place finisher Tricky Speedster. CLICK HERE FOR FULL STORY
WIN AND SECOND FOR CLUB HORSES
The Evergreen Park Racing Club horses are definitely earning their keep at The Horses At Evergreen Park at J.D.A. Raceway this summer.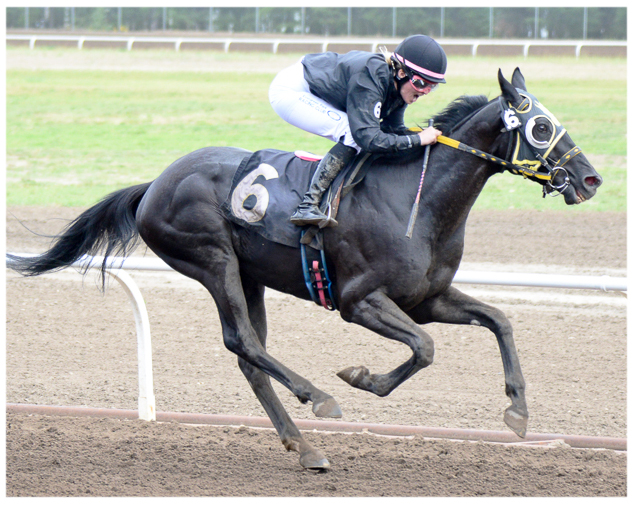 On Sunday, Ynotgiveitago (photo left) pulled off his second win of the season while one race later Club horse High Kelly Babe came in a solid second.
Ynotgiveitago now has two wins, a fourth and a fifth while High Kelly Babe has two seconds and a third.
In a seven-furlongs run Sunday Ynotgiveitago came from fourth at the ¼ and ½ poles, and third as the home stretch started, to beat Imperialite by ¾ of a length and third place finisher Two Terms by 1 ¼ lengths. Blazing Channing, which led until the homestretch, finished fourth; Equivocator was fifth; and Sakuraba sixth.
Corrine Andros was back in the saddle with the Club horses on the weekend. Ynotgiveitago's win earned the Club $2,703 of the $5,100 purse.
High Kelly Babe was second after the ¼ and ½ poles in a 5 ½ furlongs run and had the lead in the stretch, but lost to Take Me To Battle. Bambito was third.
The runner-up spot netted the Club $1,378 of the $5,300 purse.
Kathy McNally is the Club trainer. She will decide if either horse enters this weekend's racing or if one or both of them will be held back for the final weekend of racing August 27-28.
HORSE RACING UNDERWAY AT J.DA. RACEWAY
Another season of The Horses At Evergreen Park kicked off July 9 and continues Saturdays and Sundays until Sunday, August 28. It is live, pari-mutuel horse racing with the ability to bet on-site and online.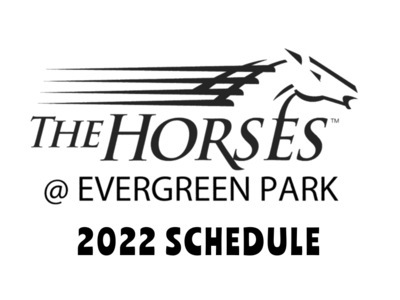 First post every race day is 1:15 p.m. and admission to all racing and all events surrounding the racing at J.D.A. Raceway is free. Horse racing has continued annually, but with restrictions in 2020 and 2021. But now that things are back to normal so are the events at the races.
The Keddie's Big Hat is back as is the Honorary Horse Owner program,  the Kids Race 4 Pick and the Co-op Candy Scramble every race day.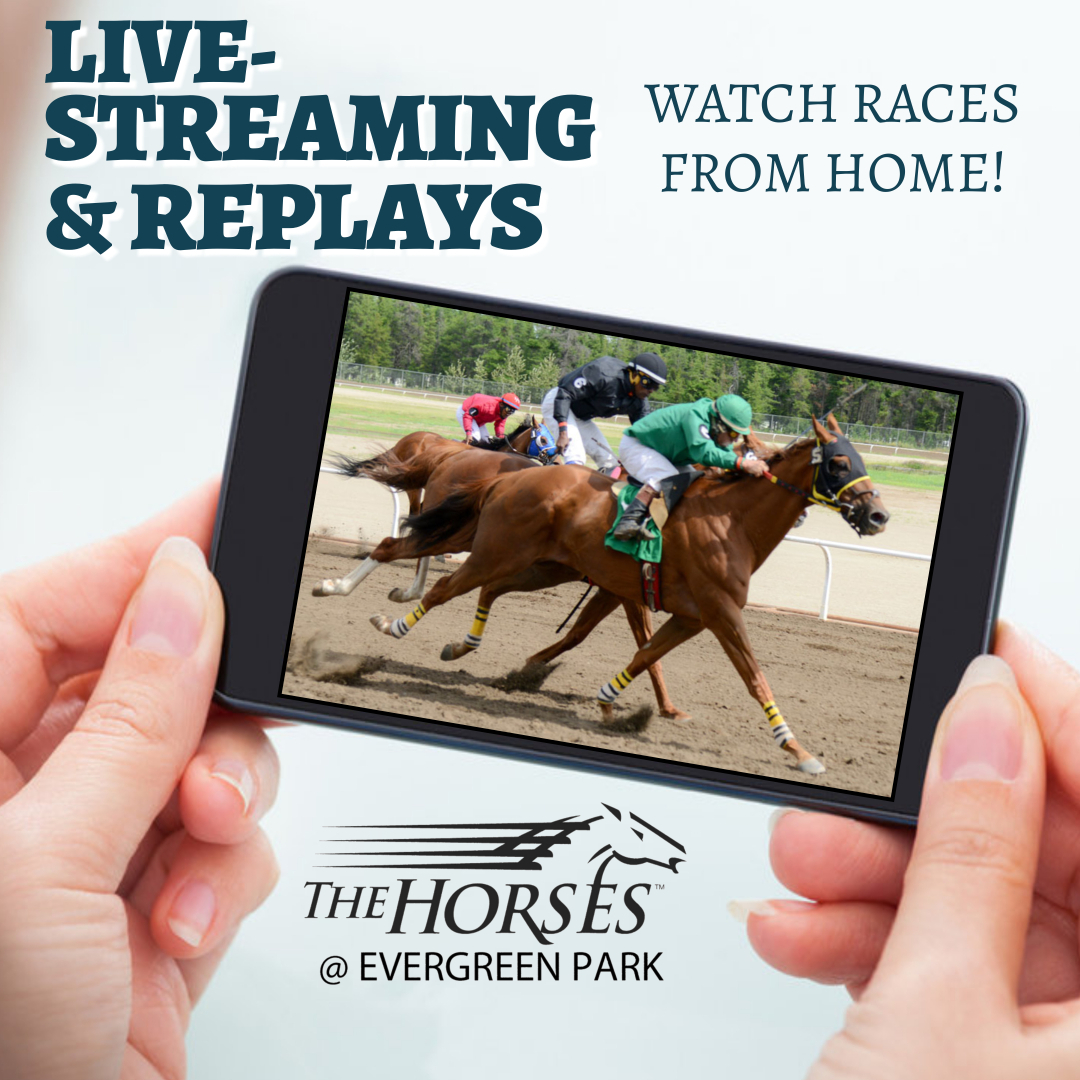 There are special days including, Weiner Dog Derby (July 24), Derby Day with the GP Oaks and GP Derby (July 31), Baconfest (August 7), Memorial/Pioneer Weekend (August 13-14) and Mr. Mike's Paint the Park Purple – Race For The Cure and the Dino Derby on August 28. There are also barn tours July 23 and 30 and August 20.
All of the races are live streamed. You can view live streaming and replays on your computer or phone here or by clicking on the graphics to the left.
You can also bet on the races through HPIBET and Xpressbet. 
Stop in at The Wild Horse Casino & Lounge or Pines Family Restaurant before or after the races.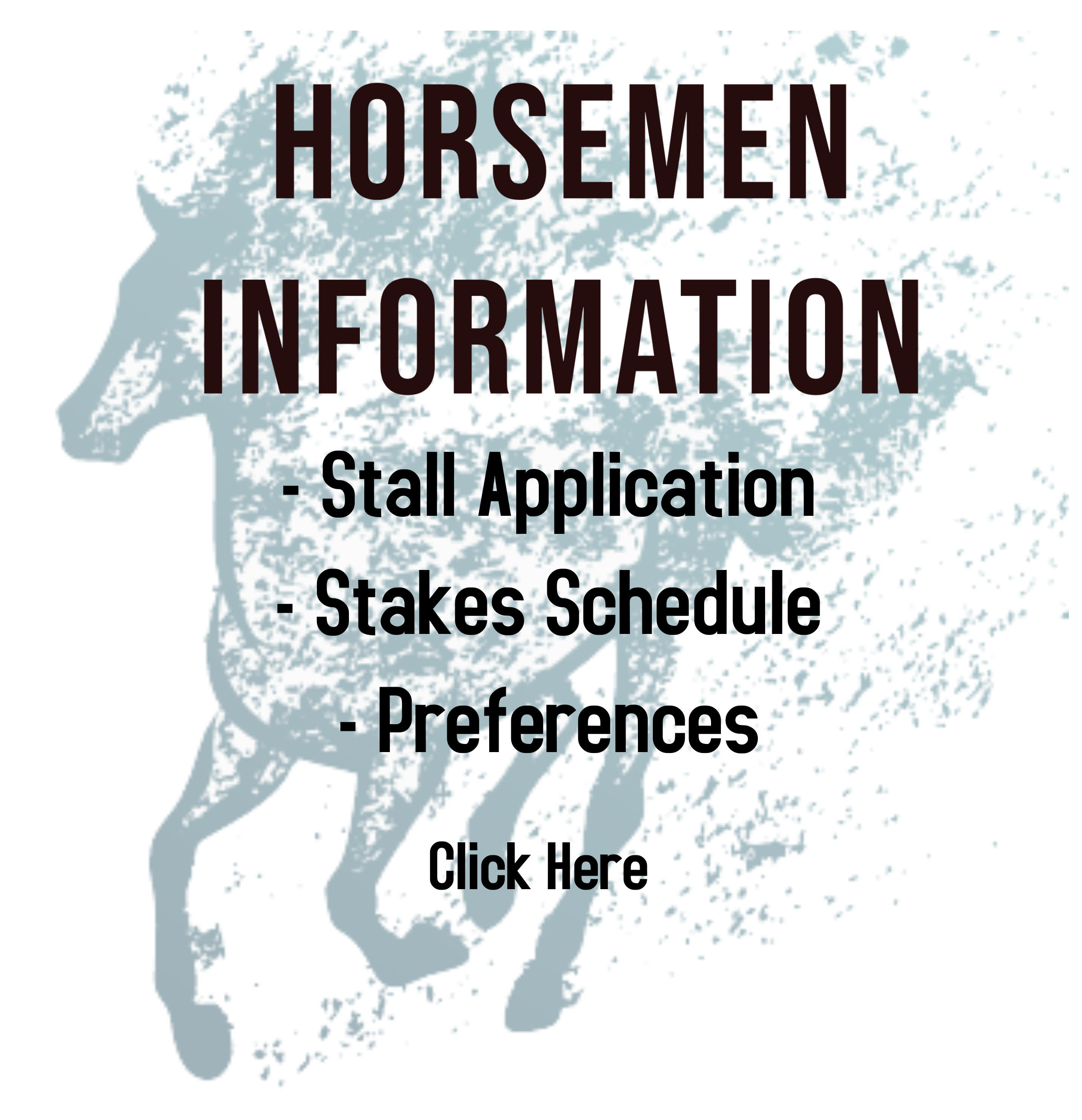 CAMPING FOR HORSE RACING
Those involved in the horse racing program at Evergreen Park can pre-book campground spots through the Park campground manager.
If you are a horseperson and needing a camping spot for the summer phone campground manager Owen Terry at 780-933-1464.