Clarkson Hall
Clarkson Hall is one of the original buildings when Evergreen Park opened in 1982.
Over the years it has hosted County Fair events; archery events; weddings; funerals, Christmas parties; live theatre; and much more.
In 2015, thanks to a Canada 150 Grant from the federal government, Evergreen Park was able to start planning a major renovation for the facility. The County of Grande Prairie also generously contributed to the construction of the Hall as well as to the purchasing of kitchen equipm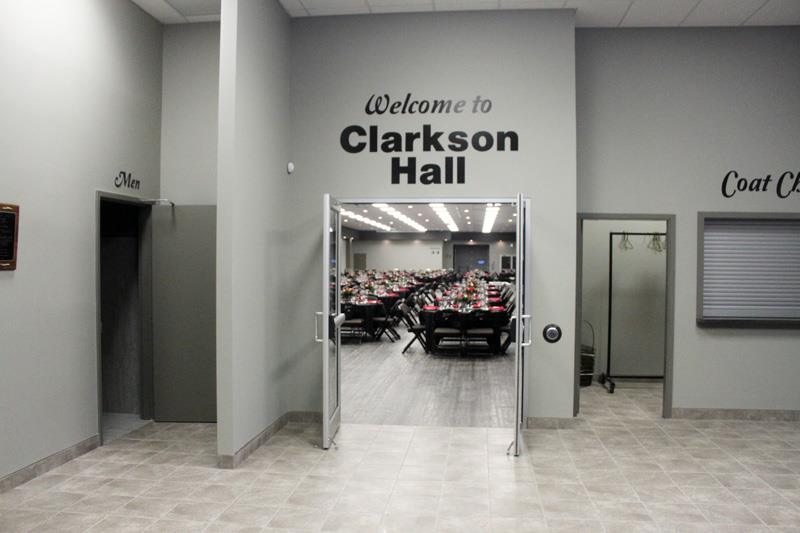 ent.
Clarkson Hall's transformation has been amazing and it held its first new-look event in November of 2016 – a County of Grande Prairie Christmas party.
The Hall is now a modern, bright and open facility that is capable of hosting events for up to 275 (tables and chairs) and 500 (theatre-style seating). A pergola, located just steps away from Clarkson Hall, allows for outdoor wedding ceremonies. There is plenty of parking beside and nearby the Hall.
Clarkson Hall features three drop-down screens with projectors; a dance floor; covered canopy at the entrance; spacious foyer and coat check room; two men's and two ladies washrooms and a handicapped washroom; two bars; and a system that can create various levels of lighting and includes pot lighting over two different areas.
Clarkson Hall is now the No. 1 destination for weddings in the Peace Country!
There is plenty of parking near the Hall and for weddings and other events held at the venue there will be special rates for overnight camping on-site. For those wanting to do their ceremony at the Park they have access to an outdoor pergola within steps of the front door of Clarkson hall in a beautiful open space among the trees.
Anyone interested in renting Clarkson Hall can contact Facilities Rental Manager Alana Sieben at  780-532-3279.