There were several story lines at the final day of racing at The Horses At Evergreen Park on Sunday, August 27.
 And trainer Kathy McNally was in the middle of a couple of them.
 McNally, from Grande Prairie, trains Big Cyn (photo above in red) and High Kelly Babe.
 Both horses were winners on the final day.
 Big Cyn won the Mr. Mike's Paint The Park Purple – Race For The Cure Stakes and first place money of $4,637 out of a total of $8,750 available.
Big Cyn, owned by Tracie Gillis and ridden by Garfield Gordon, broke out at the start, set the pace and kept to task en route to the win by ¾ of a length in a field of five horses. Causin Mischief was second and Just Class third in the six furlongs run.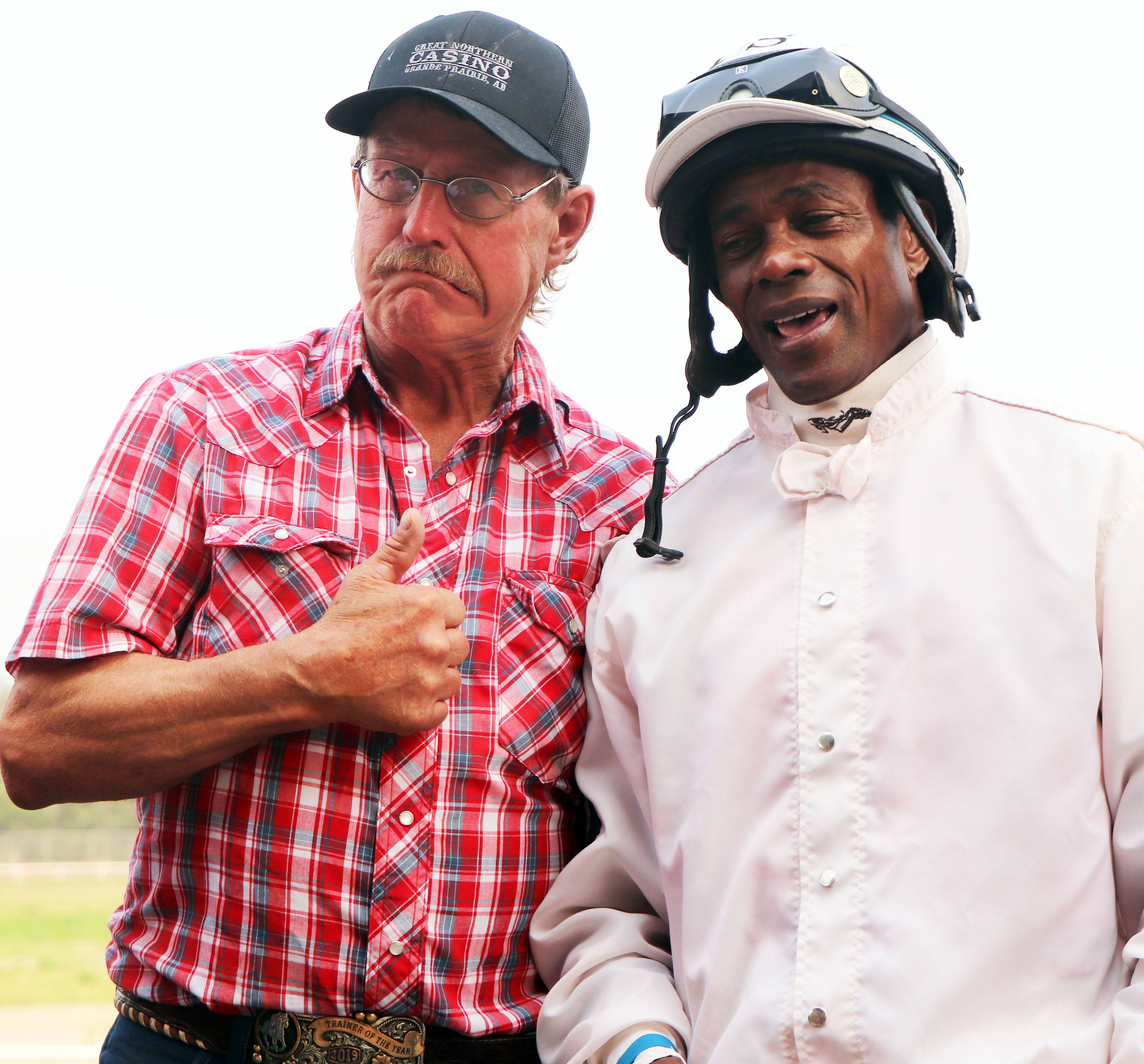 In what was one of the more heartwarming wins of the season, Evergreen Park Racing Club horse High Kelly Babe, trained by McNally, finished her racing career with a victory in Race 6 taking home $3,445 of the $6,500 purse.
High Kelly Babe, over the six furlongs, stalked the pace, found some stretch and prevailed against five other horses. She finished 1 ½ lengths ahead of runner-up Quality Plus, who finished a neck in front of third place finisher Cmon Sharon.
The Club horse had two wins, a third, sixth and seventh in five races in 2023 and overall after two years of racing had three wins, two seconds and two third after 14 starts and career earnings of $12,265.
Babe has been sold and retired from racing and will start her new life on a farm in the Peace  Country.
The other Club horse, Ynotgiveitago, will continue racing and will be at Rocky Mountain Turf Club in Lethbridge for the fall racing season.
There was another double-race going into the weekend – for Top Jockey and Top Trainer.
Trevor Simpson ended up the top rider from the summer racing season with 12 wins, five seconds and four thirds.
Early on Sunday it looked like Larris Allen was going to give Simpson a run with a win and second in the first two races to Simpson's second in the third, but in Race 4 Allen was tossed off his horse in the stretch and his race day was done. Neither Allen or the horse, Unusual Account, were seriously injured, but Allen was shaken up enough not to be able to ride the rest of the day.
Lyle Magnuson had a win, second and a fourth and walked away with the Top Trainer award. Garry Marks and Travis Robson were trailing Magnuson by two wins heading into the weekend and they each picked up one victory, both falling two wins short.
The 13-day race card was also a big success for Evergreen Park. Over 13 race days $1,520,283 was wagered averaging $116,944 per race day and $17,677 per race.
The final day was called Mr. Mike's Paint The Park Purple – Race For The Cure, which is a fundraiser for the fight against pancreatic cancer.
Winner of the 50/50 was Jade Prime of Grande Prairie with ticket number B-2428. She took home half the pot of $4,810.
The day also included the Philip J. Currie Dinosaur Museum Dino Derby.
The Horses At Evergreen Park will return for another season of live pari-mutuel horse racing in July 2024.